Our pal Cal Fernie has been living la dolce vita in Europe, nailing his job as a Professionally Good-Looking Person and soaking up the bountiful sights on offer. To kick things off, he headed to the cobblestone streets of Italy, making his way from the fashion capital, Milano, right down to the salty shores of Sicily.
Very fittingly, Cal put Emporio Armani's new travel essentials collection to the test while frolicking around Italy (it passed with flying colours, obvy). Dressed head-to-toe in their new travel-friendly assemblage of light and breathable wares, he carpe'd many diems, ate delicious pizza, drank his share of vino (and even more espressos), befriended locals, and followed his camera lens as it captured bookstores, beach clubs, bella vistas and everything in between.
Follow his journey around Milan, Sicily and beyond in the photo diary above, then get to know him better below. (Spoiler: the ensuing q&a is replete with many, many A+ Milan tips!).
Grazie Mille, Cal!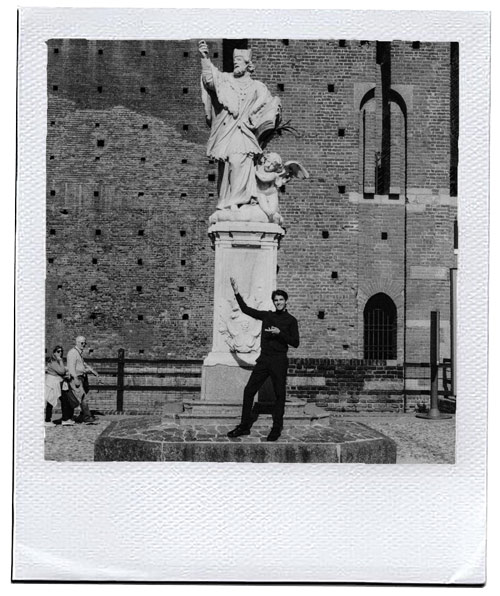 Hi! Can you give us the Cal Fernie elevator pitch?
I'm Cal. I'm from Manly in the Northern Beaches, Sydney, but I'm currently running around Europe with IMG models. I'm very passionate about photography and film. My group exhibition is coming up in November (at Burton Street gallery)—you should come by! I'm currently working on a few more things, including exhibitions at parties for the coming months. Look out for 'plastic'. Also, I make a mean Negroni.
Can you tell us how you got into modelling? What's been your favourite project to work on so far?
I found myself loving fashion, music, art and the whole lifestyle that goes along with it. I got an internship at Sydney Fashion Week when I was 16, working front of house, then one day I took an agent's card, and it all happened from there.
How would you describe your time in Italy in five words?
Aperitivo, tanned, vino, laughter, food.
What is your favourite movie based in Italy to inspire travel?
La Dolce Vita (1960) & Oceans 13 (2007)
You have 24 hours by yourself in Milan — what do you do?
I'd dump my bags, book a table at Berberè in Navigli, and grab a quick espresso. Afterwards, I'd stroll around Brera, through Duomo, and back down towards 'Piz pizza', where I'd grab a slice and keep going until I made my way back to Navigli. Rest. Then, I'd wander down to 'La Vineria', pull up a milk crate and enjoy the house wine and lamb skewers. Then I'd be off to play billiards right around the corner at Euro Jolly. To finish it off, I'd walk up the street to the best pizza in Milan, at Berberè.
What is the one thing you can't leave Milan without doing?
Take the 40min train to Lake Como.
Best neighbourhood in Milan to stay in?
Personally, Navigli.
Best places to eat in Milan?
For pizza, Berberè.
Best place for an apéritif?
La Vineria, of course.
Best spot to people watch?
On the metro.
Where else in Italy did you travel to?
I was recently in the south of Sicily, where there's the most amazing seafood, people and weather. I really didn't have one complaint. Just take it as it comes—it's really relaxed.
Coolest thing you learned in Italy?
How quickly people down their coffee.
Favourite Italian word or phrase?
"Bella Cosi."
What songs are on your transit playlist?
'Gratitude' —Big Red Machine
'Are 'Friends Electric'— Gary Numan
'Coyote' — Joni Mitchell
Do you love or hate airports (or feel neutral?) Why?
I have a love hate relationship with airports. You're either going on holiday or coming back. If that makes sense?
Aside from your passport, what else can you not fathom travelling without?
My camera!
Can you describe your ideal travelling look?
Black sandals, black trackies, a basic tee, a light jumper, and a scoosh of duty free cologne.
When are you happiest in life?
When I'm with friends and family. Simple as that.
Feature: Madeleine Woon Film: Gemma De Maria
Cal is represented by IMG

This travel guide is created in collaboration with Emporio Armani.