Sophia Bogiatto is a model and Criminology student from Auckland, New Zealand. The teen dream likes to hang out with her best pals doing "typical teenage stuff", is a fiend for dumplings and believes that growing up where she did has given her an open mind when it comes to life.
With Daphne Nguyen's camera in tow, we hung out with the little stunner one evening in Auckland recently once the sun had decided to call it quits for the day. Despite being an after dark hang, the results are more sparkly than spooky—but why are we telling you that? Go have a peep for yourself in the gallery above, then get to know Sophia and her hometown better below…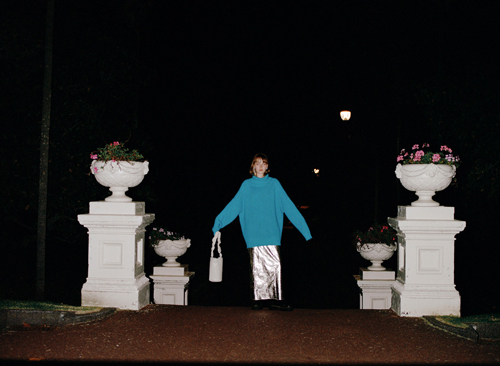 Where are you from? How do you think your upbringing helped to shape your worldview?
I'm from Auckland, New Zealand. Growing up in New Zealand has made me very open-minded to what is around me and what's going on.
I hear you're studying Criminology—how fascinating! How did you get into that? What do you hope to do with it once you've finished?
To be honest it was just an elective to fill up some spots [laughs]. The more we progressed into the course, the more I was fascinated by it. At the moment I am still trying to figure out what I'm going to do later in life—I'm taking the 'one step at a time' approach. Basically, I have no idea where I'm going.
Outside of modelling and studying, what do you like to get up to?
I spend a lot of time with my friends, whether that's hanging at a flat all day, going on random missions around town, going on walks, etc—you get the idea. Just typical teenage stuff.
When are you happiest?
To be completely honest, I am the happiest when I'm with the ones I love the most—my friends and family.
What does your ideal day in Auckland look like?
Go to uni or work, get home and try and study (which doesn't usually end up happening), then end up with my friends somehow.
Where would you take someone visiting Auckland for the first time?
I'd probably take them out to Piha or somewhere like that.
Favourite places to shop in Auckland?
I don't usually do a lot of shopping but my go to shops are Zara, Glassons, Service Denim and AS Colour.
Best place to unwind?
Somewhere near the water.
Best coffee can be found at…
Espresso Workshop (my favourite cafe at the moment).
Best place to read a book/mag…
The couch in my room, all snuggled up with a cup of tea.
Spend an arvo walking in/around…
K Road is hands down one of my favourite streets.
Best cheap feed…
Special Pot on Symonds Street. You get 15 dumplings for $8!!! How is that not illegal?!
And to treat yourself, go to…
Espresso Workshop on a Friday morning. It's doughnut day!
Have an afternoon drink at…
Anywhere that has a good vibe and great people watching, and reasonably priced drinks is a must!
For brunch the next day, go to…
I don't really brunch. I'm more of a 'hangover feed' type of girl, which usually consists of dumplings, dumplings or dumplings.
Cutest date spot…
The Winter Gardens in the Domain.
Feature: Madeleine Woon Photos: Daphne Nguyen Fashion: Chloe Hill
Sophia is represented by Red 11 AUCKLAND

Shot on location at Albert Park in Auckland, New Zealand