You might remember Franny Cowap from such stories as Hanging Out With Five Fresh Faces In NYC, where we asked the yung model a rapid fire round of questions about her time spent modelling and living (her best life) in the Big Apple. Well, since we last spoke, she's moved back to our sunburnt shores—Sydney's Inner West, where she was born and raised, to be specific—to study a Bachelor of Media in PR and Advertising. When we dressed her up this time (with model-turned-photographer Luca Kiripun), we seized the opportunity to have a good ol' chinwag to find out where the smart angel is at. In saving the best icebreaker for first, let's kick off with her views on climate change, shall we?
"We need serious climate action right now, worldwide. According to leading climate scientists we have 12 years to keep global warming below 1.5 degrees before we see catastrophic damage to our planet. A study run by scientists at Oxford University—based on data from 40,000 farms in 119 countries, across 40 food products that represent 90% of what the world eats—shows that avoiding meat and dairy is the single biggest way to reduce your impact on the earth. So, I'd absolutely love to see the switch to a more planet-friendly diet. But, we need drastic climate action in a wide range of areas."
Ok, now that we're all a bit (rightfully) terrified and emboldened to do our bit, let's get to the lighter stuff. Franny is grateful for a good many things in life, but she's mostly chuffed that her sister is her best friend, and also that tofu is a thing that exists in the world. Soy true (sorry, had to). This year is a big'n for the whipper snapper—she's super pumped to get further into her studies and also hopes that a spontaneous adventure is on the cards.
The below pic is her favourite meme (her appreciation, in tandem with her views on climate change, is pretty solid proof that she is a well-adjusted, LOL, and great human being):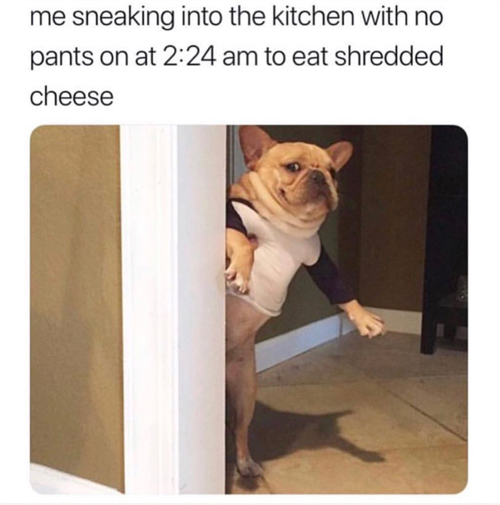 She doesn't really vibe the whole astrology thang, but does believe in the power of our minds, and of positivity, meditation and yoga. The best piece of advice she's ever received is: "Remember to be kind to yourself. Speak to yourself like you would your best friend—with honesty and gentleness." If she had to give up social media for a week, she predicts she'd be super out of touch, but a much happier and calmer version of herself. She'd happily live out the rest of her days eating nothing but Vegan Pho, and upon rising, she normally chugs water and then gives her dog a big cuddle. We're not crying, you are.
Her most treasured item of clothing is a pink t-shirt her best friend brought back for her in Year 3 from a restaurant in America called 'Johnny's Luncheonette'. The back story: Johnny was the name of a childhood teddy bear that she was obsessed with. While it's thinned out and gained a hole since then, she still wears it to this day. If you're wondering what that sound was, it was our collective CPC heart snapping in two
Get your iPhone notes ready, because she's about to give you the best books, podcasts, movies and TV show recommendations this side of The High Low.
"I'm currently reading the Neapolitan Novels by Elena Ferrante, which my whole family has read and loved. I just listened to 'How I Built This' with Emily Weiss about how she built her business, Glossier, also I love 'The Deliciously Ella Podcast', particularly the one where she interviews Joseph Poore about the environmental impacts of animal agriculture. I loved the Bohemian Rhapsody movie. As for TV shows, I'm currently obsessed with the American Office and Sex Education."
For Franny, female friendships are so important. "Women need to stand next to one another, rather than compete and compare. There should be space for more than one woman at the top and we need to support and empower each other in getting there," she explains. And as for what she finds cool? "Cool is being kind, and giving a damn." We think she's pretty kewl herself.
Franny is represented by IMG
Shot on location in Tempe, Sydney